Horse flies! My horses absolutely hate them. So, after a bad horse fly summer in 2009, I decided to get a horse fly trap for 2010.
Because my farm is on a hilltop, purchasing one of the nice commercial lightweight traps offered on the market was not an option. So, using theory from the University of Manitoba and Rutgers University, I designed my own horse fly trap. Something very heavy duty.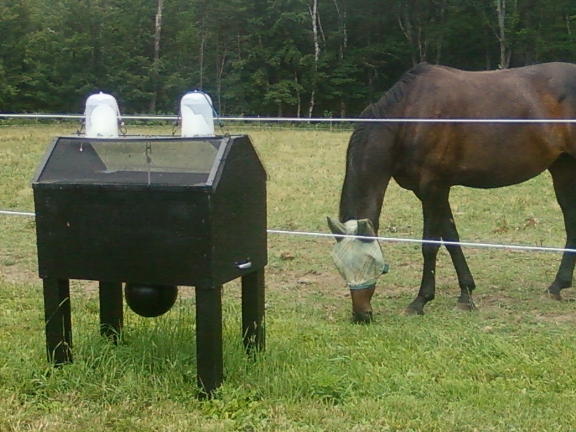 And it worked! As the theory goes, the trap captures and kills female horse flies seeking blood to fuel up before laying eggs. Since we caught so many that first summer, we directly impacted the horse fly population. Since then, we believe we have had less horse flies.
This year, because of the extra warm spring, we put the fly traps out early. And sure enough, we have already started trapping horse flies! Wow!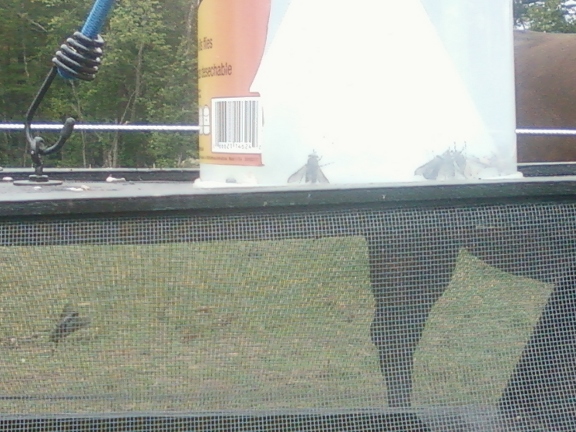 The first horse fly was solid black... mimicking my KWPN horse "Piper Warrior" who was the primary target for attacking horse flies. Next, I made a "colored" pinto fly trap and added a tail for fun. The black and white tail moves in the breeze, making the "horse" even more attractive to horse flies.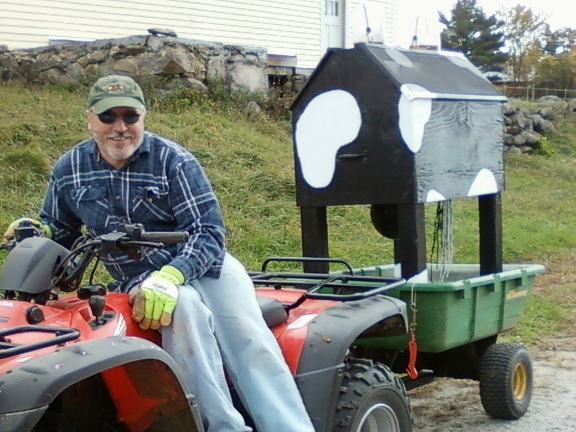 ("The Pinto" being delivered to the field.)
Until a better heavy duty horse fly trap comes along, we will continue to build and use these traps in various locations around our farm, reducing the horse fly population year after year.
If you would like horse fly traps for your farm, contact me directly. It will include your custom colors, a painted tail, handles for easier lifting & moving, and 4 disposable traps.
The traps take 4 days to build (including construction, caulking along seams, and 2 coats of paint). Stored indoors for the winter, the traps I built in 2010 are in use today.
Price $400. Delivery at cost - current gas price @ 10 mpg - within 100 miles (one way). Beyond that, we can arrange to meet up.